Case Studies
"Never doubt that a small group of thoughtful, committed, citizens can change the world. Indeed, it is the only thing that ever has".Margaret Mead (1901 – 1978) American cultural anthropologist

GELA OSCHSENHERZ

It ́s Friday and you will find a very special stand on Vienna's probably best-known market, the "Naschmarkt". People come by and enjoy the wonderful vegetables, salads and spices. A couple points at some vegetables and say: "We would like to buy 1/2 kg of that". On the other side of the stand the person in charge replies in a friendly manner: "We are awfully sorry, but we do not sell anything! That ́s because all the vegetables go to our members. We do not buy and sell, although our members contribute to our farm financially. This means that the producers and prosumers – those who "share the harvest" – not only share the benefits of a good harvest but also accept and share the risks related to agriculture." The couple is then invited to taste the vegetables for free and asked to consider to become a member.

The couple watches other people arrive and take vegetable out of boxes without weighing and without paying. Some signs say: "Plenty of this" or "Just a little of this". The principles are: Members take whatever they need for cooking in the upcoming week – at the same time taking care of the needs of the other members.

We are talking about Austria's first CSA called "GeLa Ochsenherz" which is located 30 km from Vienna and which will celebrate its 10th anniversary in 2021. The basic idea of the CSA is: that members contribute financially over a whole Season (one year).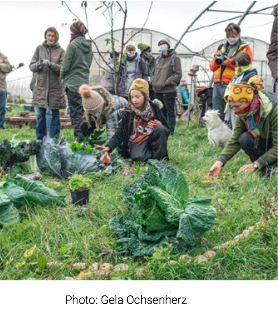 This enables the association to employ gardeners and other staff throughout the year, and also to finance buying seeds and any equipment required. Members and employees are members of a Steering Committee that runs the SSE enterprise. Major decisions are made by the members once a year at a General Assembly. Not only is there no price attached to any specific vegetable or a share. The aim is to provide good food to every member, regardless of his/her financial possibilities. Therefore everyone can decide how much their individual financial contri-bution can be. The total amount of financial contributions of the entire community must obviously be sufficient to cover all the expenses and overheads. Members also contribute through the work they do on a voluntary basis: taking turns at the stand every Friday, in the fields or in working groups. The land is partially owned by a foundation that was created precisely for one good reason: to provide land for sustainable agriculture and for CSAs like GeLa Ochsenherz in order to ensure long-term perspective and tenure.
CUKETA
The Civic association Cuketa (Slovak term for Zucchini) is based in the Slovak town of Nitra. Since its establishment in 2017 it has launched many projects. One of them is Community Supported Agriculture; there is also a project of public-open community permaculture garden. The localized food production has many benefits, it lowers the carbon footprint. "People of different mind-sets and ages come together and help and inspire each other. For example, they share the seeds and prepare pickles, herbal oils and ointments together," said Eliška, one of the founders of Cuketa.

The association also organizes educational projects. In addition to various workshops for adults, a project called Moruša-čerešňová (Cherry-mulberry) is focused on childrens' education. "We have a community education centre, with a community kindergarten and also one group for older children. Children don't follow a regular curriculum where all subjects are taught separately. The subjects overlap because everything is linked. The holistic approach aims to train future generations who will be able to maintain sustainable life in connection with nature."

In addition, Cuketa organizes festivals, including Veganfest, promoting vegan values and also an annual community garden festival, with a different theme each year.

Last modified: Tuesday, 13 April 2021, 3:20 PM