Learning from good practices
Fair & Bio Coffee Roasters
If you were to walk near the center of Prague, in Sokolovská Street, you can find a small Fair & Bio shop. It is run by the Czech NGO Ecumenical Academy (EA) and among many other Fair Trade products you can buy different sorts of fresh roasted coffee that was roasted just some 25 km away, by the co-operative social enterprise called Fair & Bio Coffee Roasters. The Fair & Bio Coffee Roasters promote social, environmental and economic sustainability, supporting the local economy, communities and decent work – globally and locally.
The history of co-operatives in what is now the Czech Republic and Slovakia (previously Czechoslovakia) goes back more than 170 years. Fair & Bio Coffee Roasters were the first co-operative coffee roasting plant in the Czech Republic. Every coffee bean that is used by the roasters was planted on Fair Trade certified farms. After roasting, the coffee is packaged and labelled manually. 75% of the processes are carried out by mentally and physically disabled employees.
The environmental aspect is important as well, and the vast majority of the coffees are grown organically. The Fair & Bio Roasters started as a follow up on the Fair Trade activities of Ecumenical Academy, one of the pioneers in promoting Fair Trade in the Czech Republic. EA focused on awareness-raising around development issues and economic alternatives, and they didn't want just to talk, but to show some alternatives in practice. EA therefore founded the first Fair Trade wholesale business in Central and Eastern Europe.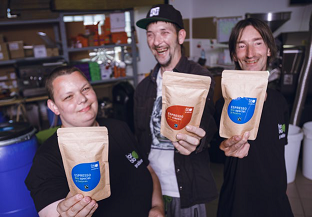 After some years and challenges the wholesale business was transformed into the co-operative, with EA and several individuals as founding members. The project started in 2011 with the help of two EU grants for social enterprises. For some years several interest-free loans from the members of the co-operative helped to stabilize the financial situation. Since 2018 the Fair & Bio Roasters operates without any grants and generates financial profit. In June 2019 the first 5 years of coffee roasting were celebrated with the members and the whole community. It was a clear choice to become a co-operative from the very beginning. The reason was to become a good example for promoting this type of democratic organisation, that had a long history in the Czech Republic, but what had been disrupted and misused during the period prior to 1989. Inspired by the history and also by Fair Trade farmers, workers and employees from the Global South help to spread the word – not just EA, as well as the co-operative actively promote SSE and share their story.
Last modified: Wednesday, 28 April 2021, 12:08 PM