Challenge: Problem of power distribution
CHALLENGE: PROBLEM OF POWER DISTRIBUTION
A paradigm of maximization of the financial profit at all costs is another challenge. In addition to the exploitation of agricul-tural lands and natural habitats, peoples' rights are not being respected. Underpaid work has become normalised and there are even many cases of slave labor and illegal land grabbing. The big agribusiness companies are favoured preferentially compared with the small-scale family farms: around 70% of the direct payments of the CAP (the European Union Common Agricultural Policy) are still going to only 20% of the farmers. The consequence is that the farms are disappearing at an alarming rate; between 2003 and 2013 just over 4 million small-holdings (over one quarter of all farms) disappeared in the EU, while the total area used for agriculture remained almost stable. This means increasing agricultural concentration, with a 38% increase in the average area of EU farms, from 11.7 hectares in 2003 to 16.1 hectares in 2013.

SOLUTION: LOCALIZED DEMOCRATIC ORGANIZATION AND PEOPLES'S RIGHTS
Capitalism and hierarchical forms of organisation of society oppose the sustainability of our agriculture, and undermine this keystone of our civilization. To change the paradigm we need to support, nourish and share the alternatives. We have to spread the principles of radical democracy, imagine so-called utopias, and advocate for appropriate changes. Hopefully some of the work by the various social movements, including RIPESS on a Common Food Policy Plan, the Farm to Fork Strategy and the Green Deal will bring about greater equity for both small-holder farmers under CAP and an overall approach to agriculture that emphasizes the importance of agroecology, the need to ban industrial farming, and greater social and environmental equity for producers and consumers alike. To succeed, we need strong communities and movements, shared knowledge and skills, and to build our collective resilience.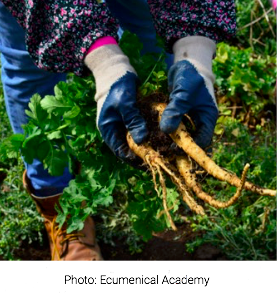 Last modified: Wednesday, 28 April 2021, 1:12 PM